Tumbril Cyclone
The Cyclone is a land vehicle that comes in 5 types: CYC, CYC-TR, CYC-RC, CYC-RB and CYC-AA.
This vehicle is ideal for speeding through ground terrain and comes in a wide variety of variants to suit the situation. From a racing variant to anti air support, this vehicle can be considered to be like a hummer on steroids.
This article covers some of the basic information about the Cyclone released so far.
Tumbril Cyclone Alpha 3.1
Cylcone CYC
"The baseline model of the Cyclone features an open flatbed in the back where cargo pieces can be safely secured and transported, making it a perfect transport for homesteads or as a short-range vehicle for planetary deliveries."

Cylcone CYC-TR (Turret)
"Designed for militia and security use, the Cyclone TR module features upgraded armor and a single Human-operated turret capable of mounting a Size 1 weapon and a responsive 360° field of fire.."

Cylcone CYC-RC (Racing)
"For those who like to push the limits of speed, the Cyclone RC features a modified intake system to allow for controlled bursts of speed as well as tools to customize handling."

Cylcone-CYC-RN (Recon)
"Stay mobile and aware with the Cyclone RN. This light reconnaissance vehicle is the perfect solution for scouting runs, providing fast and detailed scans of terrain as well as beacon placement."

Cylcone-CYC-AA (Anti Aircraft)
"A battlefield equalizer, the Cyclone AA comes equipped with a surface-to-air missile and countermeasure package to provide cover for ground troops against airborne targets."

Tumbril Cyclone Tyre Variants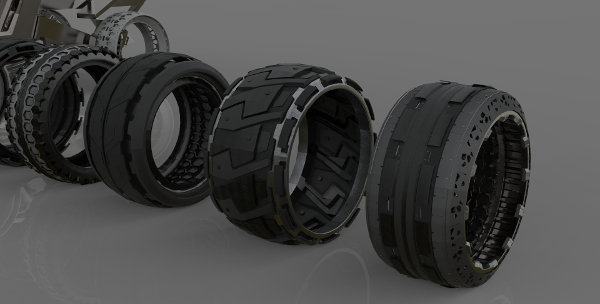 Tumbril Cyclone LTI Concept Sale Details
The following packs were sold during the concept sale in July 2017 (Prices in Euro including VAT 21%)
Standalone Cyclone-CYC LTI
€44.04
Standalone Cyclone-TR
€49.55
 
Standalone Cyclone-RC
€49.55
 
Standalone Cyclone-RN
€49.55
 
Standalone Cyclone-AA
€66.07
AIR AND SPACE PACK LTI
Package info: https://robertsspaceindustries.com/pledge/Add-Ons/Air-And-Space-Pack-LTI
€227.50
Terrapin
Tumbril Cyclone AA
Takuetsu Cyclone Model
Tumbril Cyclone Poster
Lifetime Insurance
AIR AND SPACE PACK WARBOND LTI
€204.75
Terrapin
Tumbril Cyclone AA
Takuetsu Cyclone Model
Tumbril Cyclone Poster
Lifetime Insurance
ALL-TERRAIN VEHICLE MEGA PACK LTI
€368.55
Tumbril Cyclone AA
Tumbril Cyclone RN
Tumbril Cyclone RC
Tumbril Cyclone-TR
Tumbril Cyclone
RSI Lynx Rover
RSI Ursa Rover
Greycat PTV
Takuetsu Cyclone Model
Tumbril Cyclone Poster
Lifetime Insurance
ALL-TERRAIN VEHICLE MEGA PACK WARBOND LTI
€341.25
Tumbril Cyclone AA
Tumbril Cyclone RN
Tumbril Cyclone RC
Tumbril Cyclone-TR
Tumbril Cyclone
RSI Lynx Rover
RSI Ursa Rover
Greycat PTV
Takuetsu Cyclone Model
Tumbril Cyclone Poster
Lifetime Insurance
OFFROAD VEHICLE PACK LTI
€100.10
Tumbril Cyclone-TR
Greycat PTV
RSI Ursa Rover
Takuetsu Cyclone Model
Tumbril Cyclone Poster
Lifetime Insurance
OFFROAD VEHICLE PACK WARBOND LTI
€81.90
Tumbril Cyclone-TR
Greycat PTV
RSI Ursa Rover
Takuetsu Cyclone Model
Tumbril Cyclone Poster
Lifetime Insurance
TUMBRIL CYCLONE PACK LTI
€280.78
Tumbril Cyclone AA
Tumbril Cyclone RN
Tumbril Cyclone RC
Tumbril Cyclone
Tumbril Cyclone-TR
Takuetsu Cyclone Model
Tumbril Cyclone Poster
Lifetime Insurance
TUMBRIL CYCLONE PACK WARBOND LTI
€253.25
Tumbril Cyclone AA
Tumbril Cyclone RN
Tumbril Cyclone RC
Tumbril Cyclone
Tumbril Cyclone-TR
Takuetsu Cyclone Model
Tumbril Cyclone Poster
Lifetime Insurance