Do you want to play Star Citizen but don't know where to start? Here is what you need:
Star Citizen Requirements Checklist
What kind of computer do I need to play Star Citizen?
Star Citizen aims to push the boundaries of what is technically possible in a 3D virtual universe. As such it requires as good a gaming PC as you can get your hands on.
For a premium experience you will want something like Nvidia 1070 6GB, 32GB RAM, i7 and an SSD drive. For a much more detailed and real-time spec data visit the official RSI Telemetry Page.
What is the minimum spec computer that can run Star Citizen?
It's possible to playtest Star Citizen with an i3 (3GHZ) intel cpu, 8GB of RAM (2333 MHZ+), and a 1050ti NVIDIA 3GB graphics card. An SSD drive is an absolute must.
How much drive space is required to install and run Star Citizen?
Star Citizen is currently in active development and the drive space required to install the game is constantly increasing. Currently playtesters will need at least 72 GB free for the LIVE version of the game and double that if you want to also have the TEST Universe playable (when those versions are running. Additionally, some virtual memory space is also required.
This means that if you want the full Star Citizen experience you will need about 150GB free or just over half of that if you only want to play the LIVE version.
SSD technology (or M.2 and NVME) is one of the most important technical requirements in order to run Star Citizen with testable frame rates. If you have an HDD you should upgrade immediately.
Note to Laptop users
These specifications assume a desktop computer. For laptop devices you will need significantly better specs for CPU, GPU and RAM.
Star Citizen Digital Game Package
The actual "game" you purchase to play Star Citizen is the Star Citizen Digital Download. The yellow rectangle in the image below shows what should be displayed to make sure you are buying access to the Star Citizen multiplayer universe game which includes access to the alpha.
Game packages can be found on the official Roberts Space Industries website in the Pledge Store.
Make sure you have a game package as there are also ships for sale that do not come with the game.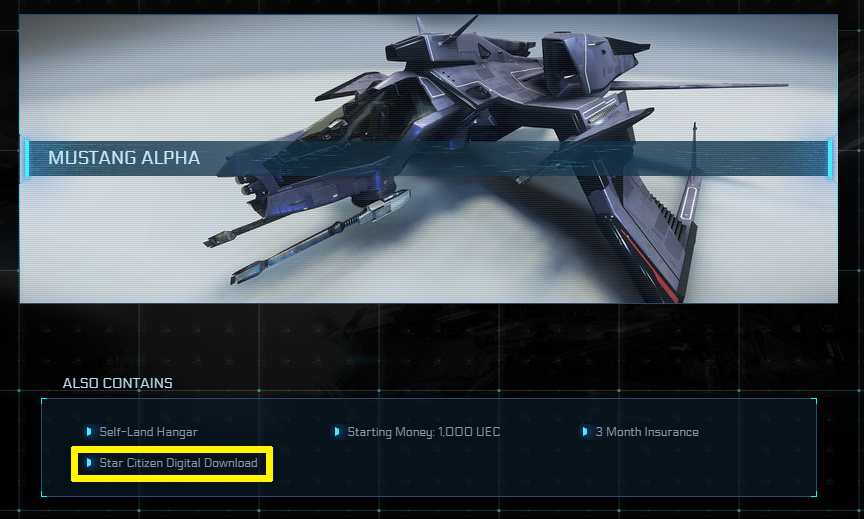 Do I need Squadron 42?
Squadron 42 is the single player game. While it is not required to play Star Citizen anyone thinking to fund at this stage should probably also consider backing Squadron 42. It's also worth noting that Squadron 42 should release commercially significantly earlier than Star Citizen. See our release date estimates.