September Free Fly 2020 Click Here.
This page is for the old Free Fly Event in may. 

Try Star Citizen For Free! - Invictus Launch Week (2950) 2020
Dates: Friday 22nd May through Monday 1st June 2020
Playtest Star Citizen Alpha 3.9 for free for one week. This guide will help you with all the things you need to get started. Whether you're a returning player checking out what is new or whether this is your first time this article provides all the information you need to get started.
Players will be allowed a list of ships and vehicles to try each day of the event (See 7. Event Schedule below).
What is Invictus Freefly 2950 Week?
Invictus Free Fly Launch Week is an in-game Star Citizen event where people can playtest Star Citizen for free for the duration of the event. There will be an in-game ship exhibitions on different days and players will have access to fly a selection of ships changing every two days for the duration of the event.
Important Information For New Players
Before starting your Star Citizen adventure it can be good to consider game requirements and other details. Here is a provided checklist.
1 - Create An Account - Use A Referral Code!
Creating your account is your first step into the Star Citizen universe. Using a referral code grants you an extra 5000 UEC (in game credits) if you decide to one day purchase the game. You only get one chance to enter a referral code and that is at the moment you create your account.
Creating an account is free (whether you buy the game or not). However, if you do not enter a referral code when you create the account you will not be able to add the referral code to the account later, therefore losing your chance to get 5000 free UEC when you purchase Star Citizen on the account. While you will still be able to make another account and then use a referral code it is recommended to use the referral code  when signing up so that you do not forget at a later date.
Click here to go to the official RSI website and create your account now. Clicking this link will automatically fill in the referral code so no mistake is possible.
Further reading: Star Citizen Referral Code
2 - Check the system requirements
To get the most out of your Invictus Launch Week Free Fly event you will want to make sure your computer can handle Star Citizen. It is an advanced MMO universe under construction therefore the system requirements are quite steep. Even if your computer can handle other games Star Citizen can be very demanding on system resources.
CIG games including Star Citizen and Squadron 42 have the following minimum requirements. CIG strongly recommend having a system with these minimums to effectively install, load, and play the games.
Windows 7 (64bit) with Service Pack 1, Windows 8 (64bit), Windows 10 - Anniversary Update (64bit)
DirectX 11 Graphics Card with 4GB RAM
Quad Core CPU
16GB+ RAM
SSD (or M.2) required
CIG also recommend the following:
Drive should be NTFS formatted with at least 72 GB for the RSI Launcher and Star Citizen for install and at least 20GB (SSD) additional space for the pagefile
Ports opens for TCP 8000 - 8020 and UDP 64090 - 64110
CIG do not currently support Linux or Mac OSX Operating Systems but it is planned in the future.
3 - Download the game
After you have created the account and checked that your system can run the game and has enough storage go to the Star Citizen download page:
4 - What you need to know before you start
Anyone wishing to try Star Citizen for free can download and play for free during the event.
Each day from Friday 22nd May 2020 to the 29th May 2020 a different manufacturer will have its ships available for free flight. Given time constraints players should research which ships they want to test as time may not permit to test all of them. From May 30th to June 1st 2020 it's possible players could have access to surprise ships or others.
5. Alpha 3.9 Player Guide - How To Play
First Steps
To get into the Persistent Universe (where the Invictus Launch Week is taking place at the Bevic Convention Center at Area 18 on ArcCorp) you will need to select [Universe] from the main menu when the game loads.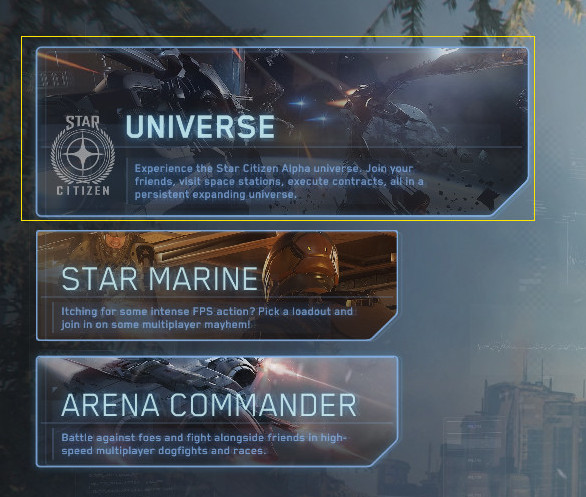 Select Starting Port
The next screen you will be presented with is the Space Port selection screen. Here you will choose which port you wish to start at. The Hangars section lets you view your ships in your hangar. The Hangar lets you look at your available ships in the Hangar. You can spawn ships and walk around inside of them in the hangar. You cannot fly or do anything else in the Hangar at the moment.
What you are looking for to get to the Bevic Convention Center is Area 18.
Area 18 is the district of ArcCorp where the Invictus Exhibition will take place.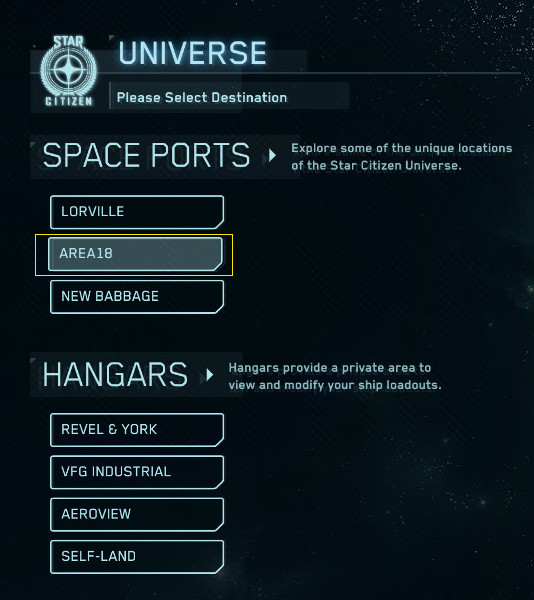 Character Creation
After you have selected a destination if it is the first time you are logging into the Universe you will be prompted with the Character Creation Screen.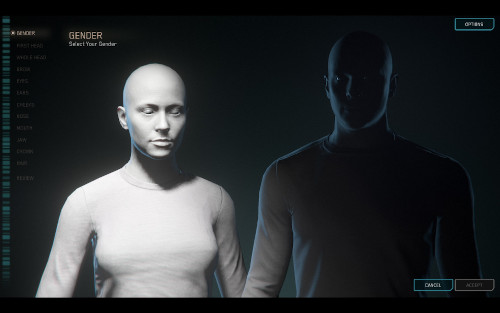 6. Invictus Free Fly Expo How To Get There
If you spawned at Area 18 exit your hab (the room you start in) and head down the elevator then follow the signs to the convention center.
If you get lost or spawned elsewhere your best bet is to ask other players to take you to the expo. To open chat press F12 and then press ENTER to start typing. Press TAB to change from (Direct Message to Global Chat).
How to get to Bevic Convention Center
When you exit your room make your way down to the lobby then find your way to ArcCorp Plaza. If you did not spawn at Area 18 then your best bet is to ask other players to take you to the expo center.
Once out of your hab and in the main plaza, follow the signs for Invictus Launch Week that will guide you to the sky tram that will take you to the Bevic Convention Center.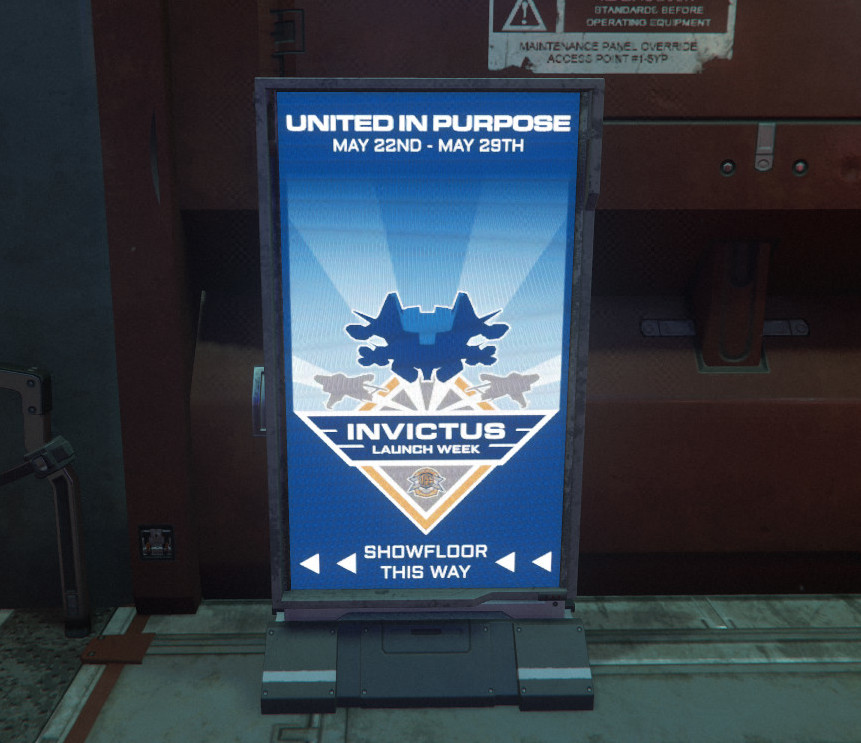 7 - Invictus Launch Week Freefly Schedule
During the event from May 22nd until June 1st 2950 (2020) players will be able to play Star Citizen for free. Additionally, there are in game exhibitions and different manufacturers presenting different ships during two-day exhibitions. Note that not all currently flyable ships in Star Citizen will be available. It is a select list of the currently flyable ships.
Friday 22nd May -> Saturday 23rd May: Tumbril / RSI / Origin
325a
Aurora LN
Constellation Andromeda
Constellation Aquila
Constellation Phoenix
Mantis
Sunday 24th May -> Monday 25th May: Anvil Aerospace
Arrow
C8X Pisces
Carrack
Gladiator
Hawk
Hornet F7C
Hurricane
Terrapin
Valkyrie
Tuesday 26th May -> Wednesday 27th May: Aegis Dynamics
Avenger Stalker
Avenger Titan Renegade
Avenger Warlock
Eclipse
Gladius Valiant
HammerheadF7C
Retaliator Bomber
Sabre
Sabre Comet
Vanguard Harbinger
Vanguard Hoplite
Vanguard Sentinel
Vanguard Warden
Thursday 28th May -> Friday 29th May: ARGO / MISC / CNOU
ARGO MPUV 1P
Freelancer MIS
Mustang Delta
Razor EX
Reliant Tana
Starfarer Gemini
Saturday 30th May -> Monday June 1st May: Drake Interplanetary
Buccaneer
Caterpillar
Cutlass Black
Cutlass Blue
Cutlass Red
Dragonfly Black
Herald
8 - New player checklist
Please check the following items before your free fly:
You have set up an account and used the referral code
You have checked the system requirements (and have 72GB free on SSD plus 20GB pagefile)
You have downloaded the game (https://robertsspaceindustries.com/download)
You have researched which points of interest you intend to visit
You have a suitable webcam (30fps to 60fps) for FOIP -

Optional

You have a Joystick -

Optional
9 - Invictus Event Questions & Answers
Can I play if I don't own Star Citizen?
Yes! For the duration of the event you will have access to the game just like someone who has spent real money on it.
Do I get to keep my progress if I return?
No. Star Citizen is currently in Alpha testing. This means that in all likelihood your progress will be wiped at some point in the future. In general it is a bad idea to grind progress in Star Citizen at this time.
What is Invictus?
"Invictus Launch Week, also commonly known as Fleet Week, is the period between Emancipation Day and Armistice Day that marks the beginning of the new recruitment year for the UEE Navy.
In addition to high-flying public demonstrations from the naval fleet, the galaxy's top vehicle manufacturers often utilize the festivities to showcase the ships and armament they supply to the military. This year, official proceedings will be held at Area18, ArcCorp, with spacecraft showcases at the Bevic Convention Center and a special demonstration by the 999th Squadron.
During Invictus Launch Week, everyone has the opportunity to see some of the verse's biggest, best, and most iconic ships up close. Different manufacturers take over every other day, so keep checking back to be inspired by everything the event has to offer.
Most ships on display are available to test-fly for free, so just select the ship you want, and take to the skies.
Check out the schedule below to plan your test flights. Have fun and fly safe!"
- From the official event description.
Invictus Launch Week Trailer
Original sources for this article