Welcome to the November 2019 Star Citizen Progress Report
New in this Report
This report introduces Playability Score for progress reports.  This part of the report aims to score playability in different areas at the time of the report.
Stretch Goal Completion Scoring
Completion for Star Citizen & Squardon 42 is scored based on a total of 104 features that were chosen to represent major gameplay milestones for both projects.
Previous Star Citizen & S42 reports:
Star Citizen & Squadron 42 Report Conclusion
Star Citizen is roughly 34% complete as of November 2019.
This represents an increase of 3% on the previous report in July 2019.
In this report there was 1 Star Citizen & Squadron 42 feature changed to playable which is the rentals system. 2 Star Citizen only features were updated: Group Missions and Fees & Tariffs.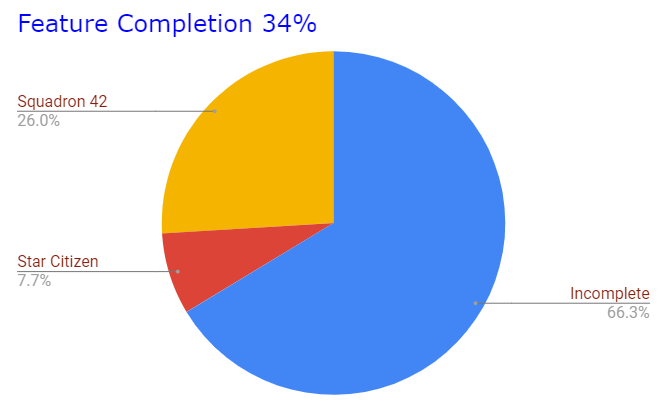 November 2019 Progress Report (Details)
Squadron 42
Since the previous report, Alpha 3.7 has added significant quality of life fixes. Only 1 feature deemed for Squadron 42 and Star Citizen was changed to "Playable":
Star Citizen
Two features were changed to "Playable":
Group Missoins
Fees & Tariffs
Group missions were added which adds a good milestone for the future of the MMO. Fees & Tariffs also changed to "Playable" because fines of various types are now in the game.
Feature Completion
Alpha 3.7 brings total tracked feature completion for both games to 34%.
Browse the list of 104 Star Citizen & Squadron 42 Features for Tracking.
Progress Velocity
Alpha 3.7 brings mostly quality of life improvements to the playability of Star Citizen. This update improved playability so significantly that playtesters are able to earn aUEC various ways and progress their economy (until the next economy reset) with relative stability.
Project Progress Velocity seems at the current time to be "Slow".
Release Dates
SC FOCUS Release Date Estimates for both games remain:
Current S42 release date guesstimate: No Sooner Than Q3 of 2021 is likely.
Star Citizen "feature complete" version: No Sooner Than 2022.
Playability Score
In the last Progress Report of July 2019 the Playability Score was introduced and the score for 3.6 was Barely Playable.
For Alpha 3.7 there were significant quality of life improvements that included bug fixes and framerate improvements. As such the Playability score has been expanded with additional categories:
Playability (2/5)
Player Count (1/5)
The Economy (2/5)
Dogfighting (3/5)
Flight Model (3/5)
FPS Combat (2/5)
AI (1/5)
Playability - How Playable is Star Citizen Alpha 3.7?
Playable but with stuttering and crashes. Though the crashes seem far less frequent than previous patches. It is stable enough to earn credits in game and upgrade the character, until the next  major patch and account reset.
The game is still very much for testers who want to see the game grow or check in to try out the new stuff every once in a while.
2/5
Player Count
Player counts are still 50 players per server. Far from anything that can be considered an MMO. This shows the infancy of the Alpha still.
1/5
The Economy
The economy feels faked. Also some core elements are missing like salvage and piracy. Pricing for ships and items in game seems OK. Earning credits feels accelerated and it is possible to earn credits via bounty hunting, cargo delivery, cargo running and other ways. Ship renting is possible and ship buying seems difficult but achievable between patch resets for all but the most expensive ships in game. Read more about the Star Citizen in game economy.
2/5
Flight Model
Alpha 3.7 saw the removal of Hover mode that was introduced in 3.6. The flight system in general seems better but still not great. Arena Commander racing seems to have almost no participation with players choosing the PU.
Flying around seems ok. Ships don't really feel like the weight changes much with cargo.
Flight model seems like it's in the final phase of tuning and polish.
3/5
Dogfighting
Alpha 3.7 saw the addition of Auto Gimbals which have caused some controversy. Dog fighting in Alpha 3.7 still cannot be considered to be great but is getting better? The video below seems to showcase well the current state.
3/5
Example of Alpha 3.7.1 Dog Fighting
FPS Combat
FPS Combat saw the addition of a new Star Marine map for Alpha 3.7. However, player activity in Star Marine has been very low. Movement in the PU seems clunky.
2/5
AI
The AI still show a lot of desynch and even though AI NPCs in Bunkers have improved the state is still not good. NPCs at points of interest continue to display no unique activities.
1/5
November 2019 Report Conclusion
The game is still very much in an early alpha state of testing. Not recommended for new players due to estimation of 34% completion of major features required as chosen for illustration purposes.
Enough quality of life features are in the game to make it feel playable at some level. Playtesting could be more gameplay focused than technical bug focused going forward.
Caveats
The list of 104 features used to track "progress" in this report are listed at the Star Citizen Completion Features Percentage Page. This is a highly simplified list of features out of thousands of technical, art and gameplay features that the game(s) will end up having. 104 the author has chosen as a simplified average set of gameplay features that the author guesses are probably required in the final games to be considered "complete".
The data is gathered as objectively as possible and is non-promotional in nature. This information is purely speculative based on personal criteria. Opinion can and should vary. It is provided for free and actually costs time and money to maintain.
Disclaimer
As always, this article does not represent the official views of Star Citizen. It is provided as speculation to help SC FOCUS org plan the strategy going forward. This information is provided to readers openly and freely and each reader is free to form their own opinion.